Actually, our sojourn into the world of the cello music began with trip to escape the oppressing heat in August of 2023. It seems like ages ago and is now only like "A Midsummer Night's Dream". I want to recount the story of two lovers and lifelong friends who run away to a forest where fairies caused mischief with their magic. The magic has forever enhanced our humdrum daily lives and will remain a part of pleasant and joyous memories. But that tale will be told on another day.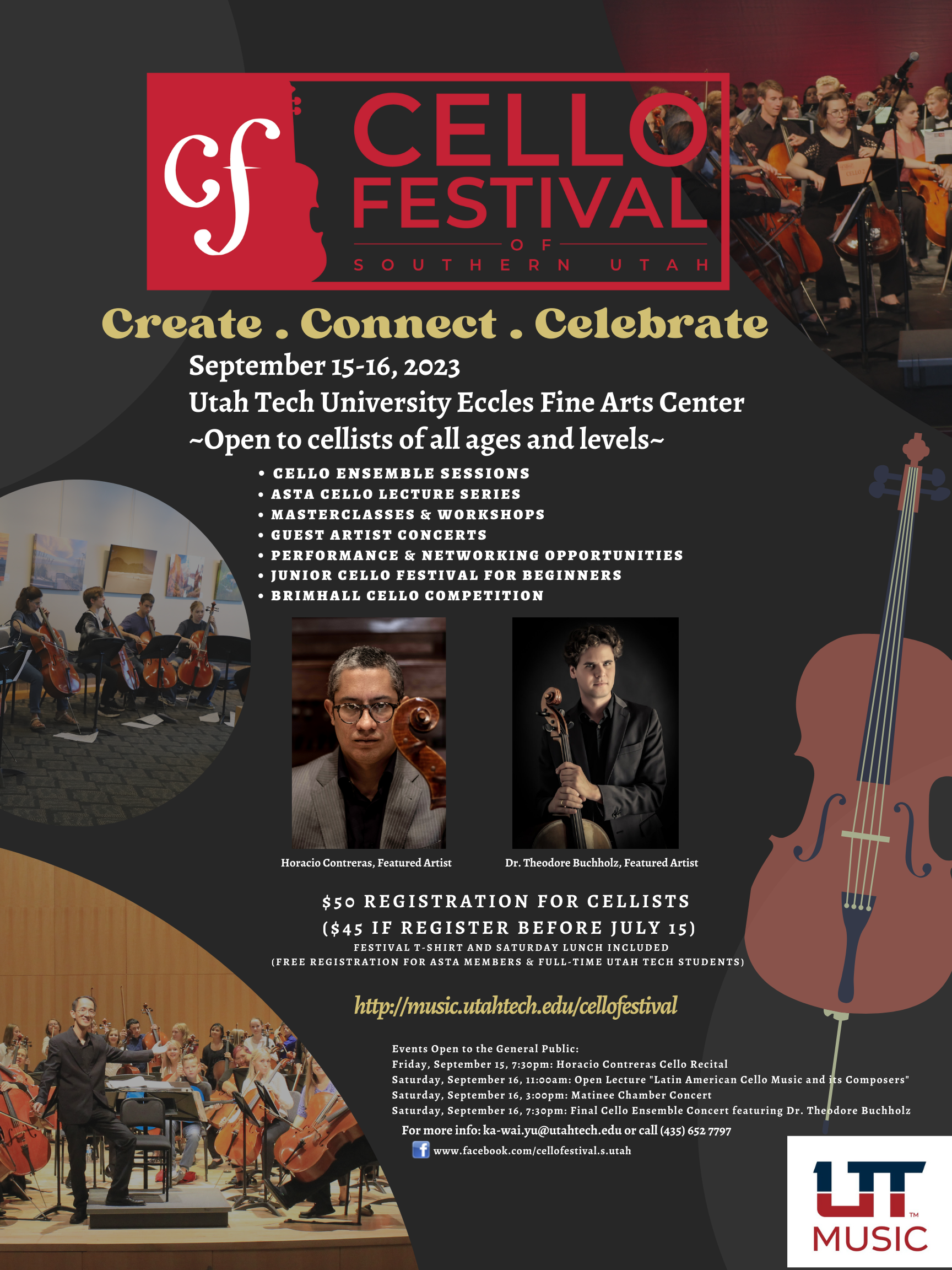 We quickly fast-forward to September where we will tell a story that is currently unfolding at the Utah Tech University. Next weekend (September 15th and 16th) Professor Ka-Wai Yu will create, connect and celebrate a gathering of Cello artists by hosting a two-day Cello Festival at the Utah Tech University Eccles Fine Arts Center.
The event is open to celloists of all ages, who will celebrate the cello by engaging in cello competitions and performances. The public is invited to three concerts as well as lecture series featuring renowned celloists Horatio Contreras and Dr. Theodore Buchholz. Here are some details of this must-see entertainment.
An introduction to the Cello and the organizers of the Cello Festival event is in order.
The cello (/ˈtʃɛloʊ/ CHEL-oh), or violoncello (/ˌvaɪələnˈtʃɛloʊ/ VY-ə-lən-CHEL-oh, Italian pronunciation: [vjolonˈtʃɛllo]),[1] is a bowed (sometimes plucked and occasionally hit) string instrument of the violin family. Its four strings are usually tuned in perfect fifths: from low to high, C2, G2, D3 and A3. The viola's four strings are each an octave higher. Music for the cello is generally written in the bass clef, with tenor clef, and treble clef used for higher-range passages.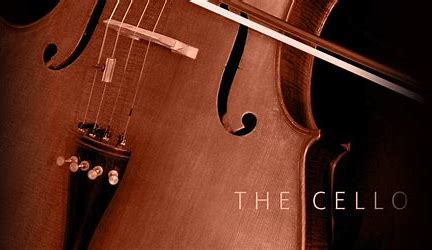 Played by a cellist or violoncellist, it enjoys a large solo repertoire with and without accompaniment, as well as numerous concerti. As a solo instrument, the cello uses its whole range, from bass to soprano, and in chamber music such as string quartets and the orchestra's string section, it often plays the bass part, where it may be reinforced an octave lower by the double basses. Figured bass music of the Baroque era typically assumes a cello, viola da gamba or bassoon as part of the basso continuo group alongside chordal instruments such as organ, harpsichord, lute, or theorbo. Cellos are found in many other ensembles, from modern Chinese orchestras to cello rock bands.
Dr. Ka-Wai Yu who is the organizer, host and sponsor of this Utah Tech event. Dr. Ka-Wai Yu is an Associate Professor of Music at Utah Tech University, where he teaches cello and string chamber music. He previously taught at Eastern Illinois University and Indiana Wesleyan University. In great demand as a clinician, Dr. Yu has given master classes in numerous universities and institution in North America and Asia. . He has also taught in music camps and workshops in Illinois, Georgia and Michigan, as well as in Hong Kong. Dr. Yu is past president of the Utah Chapter of the American String Teachers Association. He co-founded the Cello Society of Southern Urah and directs the annual Cello Festival of Southern Utah. Currently the Principal Cellist of the Southwest Symphony Orchestra, Dr. Yu has performed in Canada, China, Germany, Japan, Singapore, South Korea, Taiwan and the United States.
He is a vivid chamber musician and is a founding member of the Zion Trio and the period-instrument ensemble Cosmopolitan Baroque. He has appeared in the Aspen Music Festival, Boston Early Music Festival, among others.
Presented here is Dr. Yu's interview with the Mesquite Weekly.
We also contacted the featured cello artists, and we enjoyed their candor and insights into the cello performing art in a chat via Zoom sessions.
Venezuelan cellist Horacio Contreras. Contreras has gained esteem through a multifaceted career as a concert cellist, chamber musician, pedagogue, and scholar. He has collaborated with prestigious institutions across the Americas and Europe as a concerto soloist, a recitalist, a chamber musician, and a master class clinician. Presented here are his insights and views on music and the cello.
Theodore Buchholz also talked to us via a Zoom session. Critically acclaimed for his "eloquent and expressive artistry,"
Theodore Buchholz has been lauded as a "virtuosic cellist" with a "warm beautiful sound." He has performed in prominent venues from New York's Lincoln Center to international halls in Tokyo, and in countless venues across the United States. His performances and recordings have aired on classical radio stations around the world. He performs on an exceptional cello made in 1877 by Charles Mennégand. Presented here are views and insights into his artistry.
A great weekend awaits us at Utah Tech. Please join the cellists in this Celebration and Festival. Here are some additional insights offered by Dr. Yu for successfully competing in the Cello competition.
Be sure to watch this space for a special report on the events of the Cello Festival and more from a magical place where there are "Concerts In The Barn".